Whether you're in the market for your first air fryer, or you're ready to buy replace your old one, this collection of real Air Fryer reviews by bloggers and home chefs is a great place to start!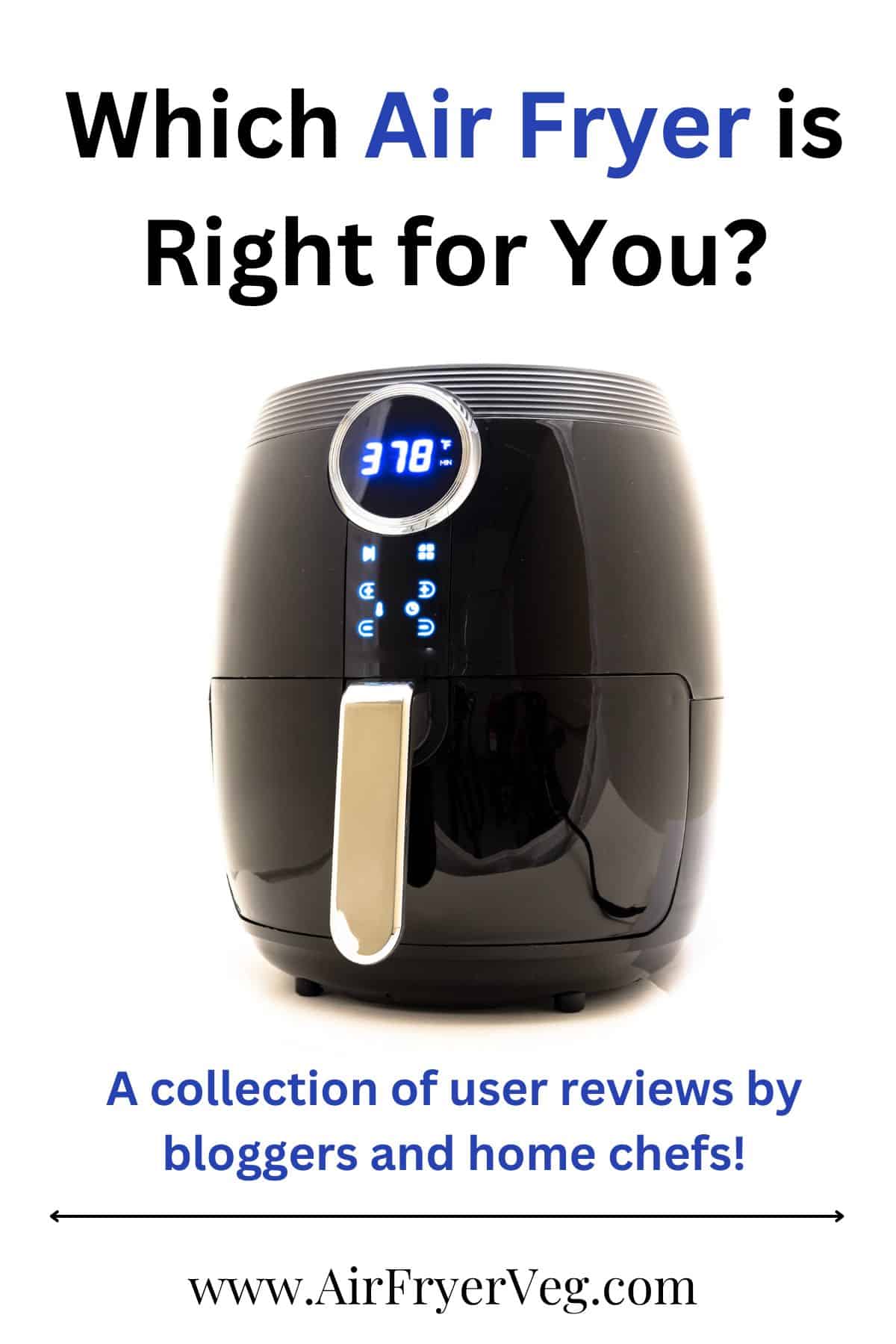 For many foodies out there, buying your first Air Fryer has become a right of passage. But how to decide which brand to buy? What size? Which capabilities? It can be exhausting.
What to consider when buying an air fryer
There are a few important factors to consider when you're purchasing an air fryer. These include:
Price -- Obviously price is a huge factor when making a large purchase. Air fryers come at various price points ranging from very cheap to very expensive. I think it makes more sense to look at value over price since there are a number of other factors to consider. But if price is an obstacle for you, consider waiting for a big sale. You can often find great deals on the best Air Fryer brands on Black Friday (that's when I got mine!).
Size -- There are two important aspects to size. 1) How many people do you regularly feed? For 1 to 2 people a small basket is great, but for 3 or 4, you'll want a larger basket. 2) How much storage space/counter space do you have available? I actually store my massive air fryer in a hall cabinet because that's the only place it will fit. For some bigger models it's not even feasible to move it on and off the counter after every use, so choose wisely.
Expected Usage -- Ask yourself, realistically, how often you expect to use your air fryer. If you just plan to throw in frozen french fries once or twice a month, you can probably opt for a smaller, cheaper air fryer that can be easily stored out of eyesight. But if you expect to use it multiple times a week for a variety of dishes, an air fryer with a double basket might be right for you.
Capabilities -- Many brands of air fryers out there also function as a grill, pressure cooker, dehydrator, and more. So if you have a small kitchen or you just don't like to have a lot of gadgets around, getting a multi-purpose air fryer might be for you!
Brand -- Although they might be pricier, there's a reason you'll see a few brands mentioned multiple times in this collection. That's because they are well-trusted brands that have a proven track record. While you could save money initially by buying a lesser-known off-brand, you have to consider that if the quality is poor you'll probably have to replace it sooner. So in the long run, it might actually be cheaper to go with a better-known but more expensive brand.
Why real user reviews matter
Air fryer reviews on big websites can be useful, but they have limitations. Most noticeably, the reviews aren't always based on actual experience. That's why I decided to offer you a collection of reviews by food bloggers and real home chefs. Not only can you get some insight into what the pros and cons of each air fryer are, but you'll also get a sampling of what people actually love to cook in their air fryer!
Believe it or not, this is a random sampling of air fryer reviews, but there are two brands that come up again and again. See if you can spot them!
So without further ado, let's get to the air fryer reviews, starting with my own!
Mackenzie Burgess, registered dietitian nutritionist and recipe developer at Cheerful Choices
Home Chef Reviews
Melissa, Theater Educator and Mom of Two
Which Air Fryer do you love?
Tell us which air fryer you've been loving in the comments below. Or if you bought one based on the reviews above, tell us what you think!